The price of Bitcoin has decreased along with other risky assets. According to CoinMarketCap data, in the past 24 hours, the price of Bitcoin has dropped from over 30,200 USD/BTC to 29,200 USD/BTC.
"The price of Bitcoin has officially fallen below 30,000 USD/BTC - an important psychological threshold that the currency broke last week."
Risk appetite has changed.
According to an expert's opinion, the risk appetite of investors has changed. More and more people believe that the US Federal Reserve (Fed) will continue to increase the benchmark interest rate at the policy meeting in May.
Gold is currently being traded below the $2,000/ounce threshold, and both gold and Bitcoin are vulnerable to changes in interest rates. This is because as interest rates rise, the cost of capital and opportunity cost of these assets - which are considered safe havens - also increase.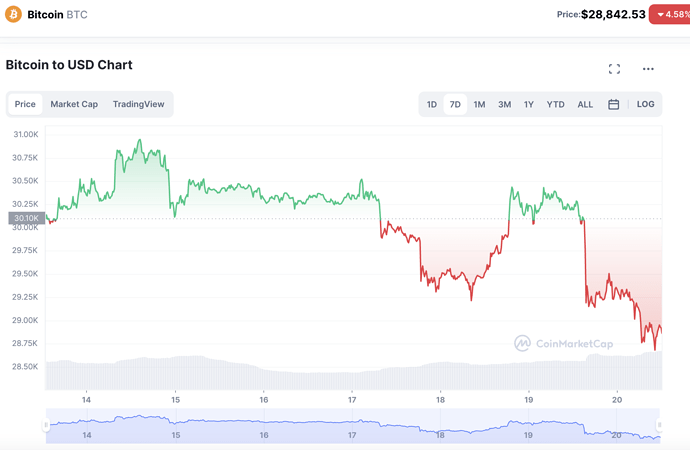 According to Raphael Bostic, the President of the Atlanta Fed, the Fed's policy-making committee is expected to approve a 0.25 percentage point increase in the benchmark interest rate, and may maintain higher interest rates "for an extended period."
The Fed appears poised to adopt a more aggressive approach by implementing a policy interest rate that exceeds current market expectations. This has resulted in increased bond yields in favor of the USD and has negatively affected investor sentiment.
Presently, the majority of the market anticipates the Fed to continue with a "dovish" approach. Market data from CME Group indicates that there is an 83.1% probability of the Fed raising interest rates by 0.25 percentage points, up from the previous week's 70.4% (April 12).
At the same time, the chances of the Fed maintaining interest rates based on market pricing are only 16.9%, down from 29.6% on Wednesday of the previous week.
The latest inflation report from the UK, which indicated a surprising increase of over 10% in the consumer price index in March, has resulted in a decline in Bitcoin prices. As a result, the Bank of England (BoE) may be forced to raise interest rates by 0.25 percentage points at its May meeting.
Despite the current downturn in the market, experts predict that this is merely a correction following a period of significant gains for Bitcoin, rather than an issue specific to the cryptocurrency market. Mr. Erlam anticipates that the downward trend will soon reverse once concerns subside, while Clara Medalie, Head of Research at cryptocurrency data firm Kaiko, notes that liquidity on the market is low due to the loss of two of the largest cash-to-crypto transfer networks provided by Silvergate and Signature Bank, which have both failed.
*https://bitforum.net – Crypto forum discussions about all aspects of cryptocurrency #Bitforum #SocialFi #InnovationSocialNetwork