The price of Bitcoin on the CoinMarketCap exchange is currently at $27,000 on May 14th.
Notably, within the past 24 hours, the world's largest cryptocurrency reached its lowest point at $25,878, although it also reached its highest point at $26,989.
According to CoinMarketCap, the trading volume of Bitcoin today is around $17.2 billion, with a market capitalization of $518 billion.
Additionally, on the Binance tracking tool, other cryptocurrencies have experienced significant fluctuations. Ethereum's price has increased by 2.86% to $1,798, BNB's price has risen by 2.65% to $309, and Dogecoin's price has increased by 2%.
Earlier, technical analyses suggested that Bitcoin would decline to $26,000. This prediction has materialized, indicating that the largest cryptocurrency will take at least a few weeks to recover to higher price levels.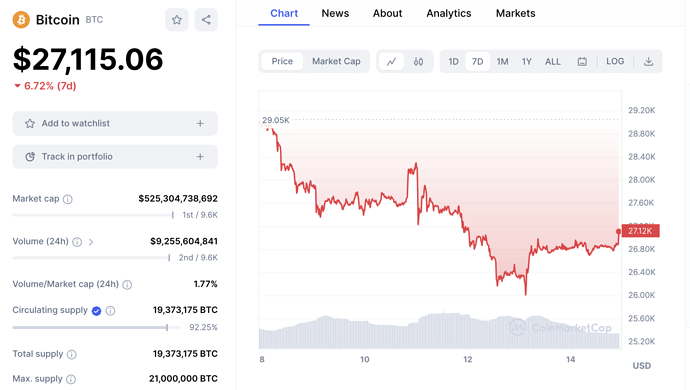 Liquidity has decreased, and market depth is gradually diminishing.
According to CNBC, the cryptocurrency market is facing various issues such as low liquidity, regulatory pressures from US regulatory agencies, and concerns about macroeconomics.
Bitcoin has increased by approximately 59% this year but remains unstable, with low liquidity exacerbating price fluctuations.
At the end of February, the Federal Reserve (FED), the Federal Deposit Insurance Corporation (FDIC), and the Office of the Comptroller of the Currency (OCC) issued a joint statement warning banks about liquidity risks related to digital banking companies.
One month prior, Bitcoin reached $30,000 for the first time since June 2022. However, it struggled to break free from this threshold for an extended period and remained within the range of $26,000 to $30,000.
Furthermore, regulatory oversight of the cryptocurrency industry by U.S. regulatory agencies has increased since the collapse of the FTX exchange last year.
The U.S. Securities and Exchange Commission (SEC) warned the U.S.-based cryptocurrency exchange Coinbase in March about potential violations of securities laws. Coinbase CEO Brian Armstrong stated that the company is preparing for a prolonged battle with the SEC.
Meanwhile, the Commodity Futures Trading Commission (CFTC) accused the cryptocurrency exchange Binance of trading rule violations in March.
It can be said that the cryptocurrency industry is engaged in a battle with U.S. regulatory agencies as the SEC and the U.S. government are accused of not providing clear regulations.
https://bitforum.net – Crypto forum discussions about all aspects of cryptocurrency #Bitforum #SocialFi #InnovationSocialNetwork