BlackRock's potential involvement in the Bitcoin ETF highlights the growing interest of institutional investors and their anticipated entry into the cryptocurrency landscape.
Bitcoin (BTC) is demonstrating its market resilience by significantly increasing in value over the last week. Within a 24-hour period, Bitcoin has surged by 10.38%, and over the past seven days, it has seen an impressive 20.42% increase. This surge has driven the leading cryptocurrency's price to $33,916 at the moment, emphasizing the influence of various market factors and potential developments on Bitcoin's market trends.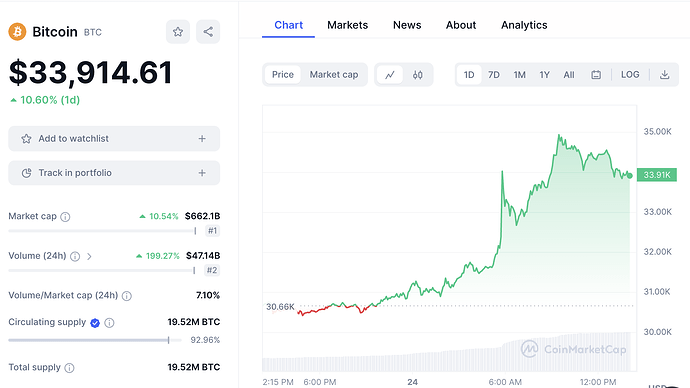 Between October 21 and 23, Bitcoin maintained a stable trend around the $31,000 mark. However, on October 23, there was a substantial bullish movement, causing Bitcoin's price to sharply rise from about $31,000 to just under $35,000. This surge in price was accompanied by a significant spike in trading volume, indicating strong buying pressure.
After this surge, there was a minor correction on the morning of October 24, with Bitcoin's price pulling back to around $33,987, according to the latest recorded candlestick. This adjustment may indicate a normal market response following a significant peak, highlighting the dynamic nature of cryptocurrency markets.
Recent reports suggest potential market developments that could impact Bitcoin's performance. According to Bloomberg analyst Eric Balchunas, global asset manager BlackRock has shown interest in seeding its iShares spot Bitcoin Exchange-Traded Fund (ETF). While specific plans have not been confirmed, such a move could further energize the market.
https://bitforum.net – Crypto forum discussions about all aspects of cryptocurrency bitforum #SocialFi #InnovationSocialNetwork