Bitcoin has surged nearly 90%, unexpectedly surpassing many other investment channels to become the best performing asset.
In Q1 alone, the world's largest digital currency rose over 70%. This is the highest profit quarter since Q1/2021, when it increased by 103%. As of mid-April, Bitcoin has risen more than 87%. This figure far exceeds the increase of many other investment channels such as gold, US and European stocks, crude oil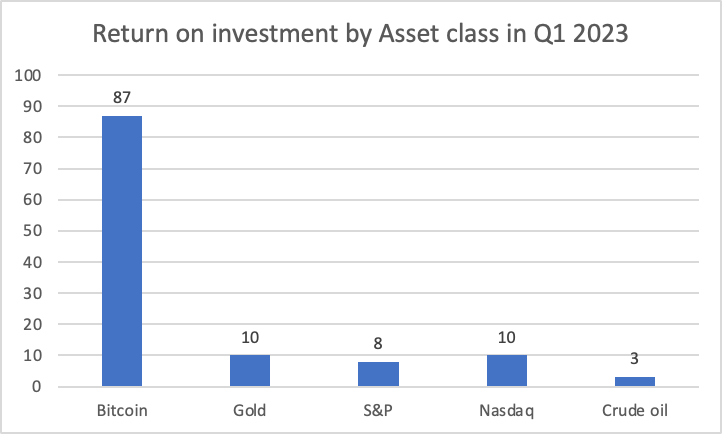 (Source: Bitforum Network)
The last quarter of 2022 was a challenge for Bitcoin as it lost around 15% of its value. Factors such as a weak macroeconomic environment, the Terra-Luna crisis, and concerns about the spread of the digital currency crisis have affected Bitcoin's overall performance throughout 2022.
Despite the decline of many investment channels due to significant fluctuations, the digital currency market has quietly accumulated capital flows. Bitcoin has experienced unexpected price increases that have exceeded analysts' predictions. The world's largest digital currency exceeded $30,000 per unit and has maintained this price range for the past week.
In the recent price surge, many agree that the motivation comes from increasingly optimistic investors about the Fed's application of loose policies. Assuming that interest rates continue to rise in the second quarter, but with a low margin, it will help reinforce the value of this digital currency.
However, many market observers are still debating the main reason for Bitcoin's performance from the beginning of the year until now - an almost 90% increase, according to Bloomberg. Some say that digital currency has recovered after a period of deep decline, a familiar scenario that occurred during the 2017-2018 period.
Some point out that the source of this upward trend is the market demand that is returning: amid earthquakes in the global banking sector, digital currency can act as a safe haven because it is independent of central banks.
Bitcoin and other digital currencies are called decentralized currencies because they are not issued by a single entity like a central bank. Instead, they are based on fundamental technology called blockchain, and their network is maintained by the community.
*https://bitforum.net – Crypto forum discussions about all aspects of cryptocurrency #Bitforum #SocialFi #InnovationSocialNetwork