Checkout.com, a multi-channel payment processor, has decided to end its partnership with the cryptocurrency exchange Binance due to concerns over money laundering and compliance issues. According to Forbes, this decision was prompted by regulatory intervention in the region and requests from partners. Checkout.com is particularly worried about Binance's adherence to anti-money laundering regulations and punitive measures.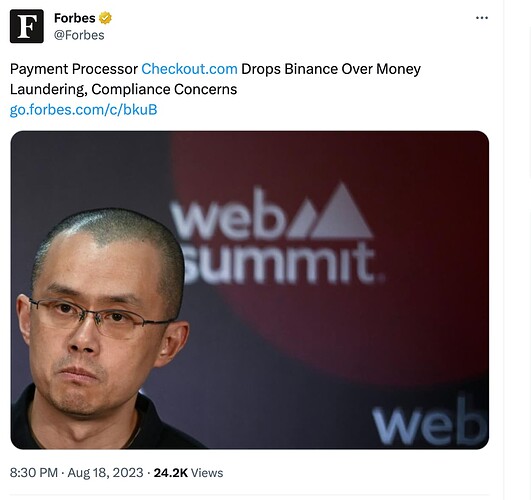 In response, Binance has expressed disagreement with Checkout.com's decision to terminate the collaboration and is contemplating potential legal actions.
Binance stated, "Despite the ongoing challenges, we remain fully committed to cooperating with global regulatory authorities and partners in order to ensure transparency and provide the best possible services for our users."
Checkout.com, valued at around $40 billion USD as of January 2022, specializes in processing payments across various channels and caters to businesses in more than 100 countries.
https://bitforum.net – Crypto forum discussions about all aspects of cryptocurrency bitforum #SocialFi #InnovationSocialNetwork