On July 30th, Curve Finance experienced a reentrancy attack, resulting in a loss of over 47 million USD worth of cryptocurrencies.
Subsequently, on August 2nd, Gabriel Shapiro, a member of Curve DAO, made an announcement on his personal Twitter page.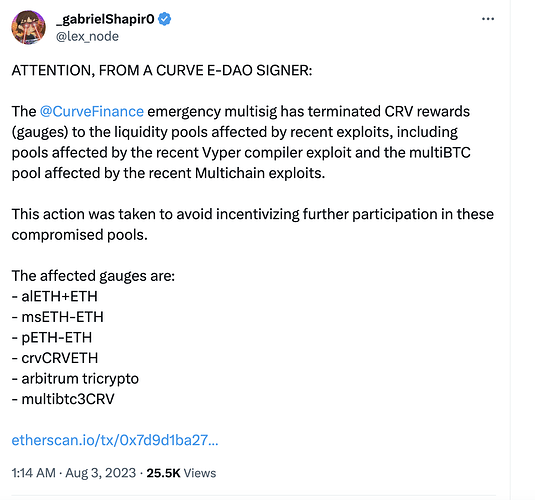 As a consequence of the Curve attack on July 30th and the Multichain hack on July 6th, the reward distribution for the affected liquidity pools has been temporarily suspended.
It's important to note that this decision might be subject to future cancellation, pending a re-vote by Curve DAO.
During the incident, despite the attack, the pools continued to generate CRV rewards, allowing users to deposit their tokens and earn CRV.
However, on August 8th, Shapiro stated that the emergency DAO has now taken action to remove this reward mechanism. The purpose is to prevent users from interacting with the compromised pools and minimize further risks.
Adding to the complexity, before the attack occurred, Michael Egorov had pledged 305 million USD worth of CRV as collateral for a loan of 63.2 million USD.
There's a concern that if the collateral is liquidated, the price of CRV could experience a significant drop, potentially causing a domino effect across the DeFi ecosystem. To mitigate such risks, Egorov has been actively selling over 39.25 million CRV OTC to various parties, including Justin Sun, Machi Big Brother, DWF Labs, and Cream.Finance.
https://bitforum.net – Crypto forum discussions about all aspects of cryptocurrency bitforum #SocialFi #InnovationSocialNetwork