Tokenized securities and derivatives trading via Liquid X Network
In the ever-evolving realm of investments, there has been a growing need for a platform that effortlessly combines digital assets, such as cryptocurrencies and NFTs, with traditional real-world assets like securities and derivatives.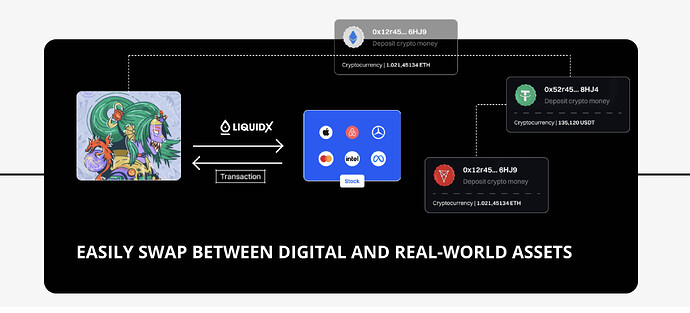 Enter LIQUID X, an innovative exchange that sets out to revolutionize the way we invest. This article will delve into the remarkable features of LIQUID X and how it empowers investors to explore new horizons in the world of finance with ease.
Unmatched Convenience:
LIQUID X brings unprecedented convenience to investors by offering a unified broker account that encompasses a wide range of investments. With just one platform, users can effortlessly manage their cryptocurrency holdings, NFTs, digital vaults, stocks, options, and futures. Say goodbye to the hassle of juggling multiple accounts and platforms – LIQUID X streamlines the investment process for ultimate efficiency and simplicity.
Empowering Time and Price Sensitivity:
Understanding the significance of timing in investment decisions, LIQUID X provides users with a user-friendly interface to set price alerts for various asset types. This powerful feature enables investors to closely monitor market movements and seize opportunities at the right moment. Seamlessly swapping assets becomes a seamless task, allowing investors to optimize their strategies based on real-time market conditions.
Simplified Tax Efficiency:
Tax implications can be a major concern for investors, but LIQUID X has a smart solution. Through the platform's asset swapping feature, investors can conveniently exchange one type of asset for another, eliminating the need for cashing out and incurring capital gains taxes multiple times. This streamlined approach not only simplifies the process but also enhances tax efficiency, enabling investors to make the most of their returns.
Enhanced Trust and Transparency:
Trust and transparency are key pillars in the investment world, and LIQUID X prioritizes both. By harnessing the power of blockchain technology, the platform facilitates secure and transparent trading of securities and derivatives. This ensures that every transaction is recorded and verifiable, eliminating the risks associated with traditional trading systems. Investors can have confidence in the integrity of their trades and the overall transparency of the platform.
Join LIQUID X to experience a new level of efficiency and diversity in your investment portfolio. #LIQUIDX #DigitalAssets #BlockchainTrading
https://bitforum.net – Crypto forum discussions about all aspects of cryptocurrency #Bitforum #SocialFi #InnovationSocialNetwork