The news of the possible restoration of FTX exchange after the recovery of $7.3 billion in assets has generated mixed reactions of excitement and skepticism among many. On April 13, the price of FTX's token, FTT, surged from $1.3 to $2.7 within an hour, before settling around $2.4 by 7am.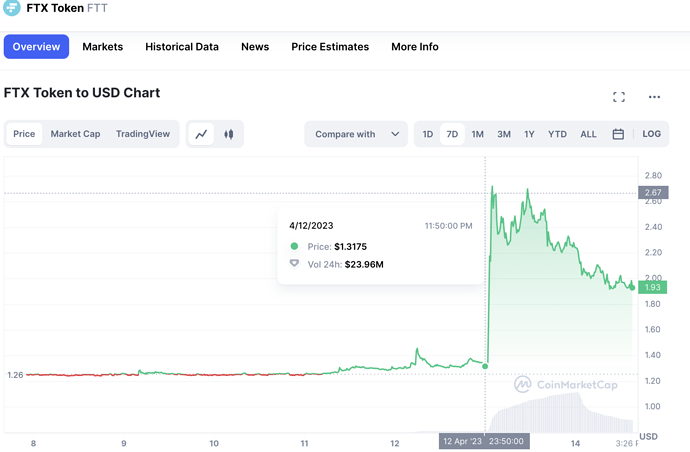 In November 2022, FTT's value had plummeted from $25.8 to $2.5, leading many traders to invest in the tokens like a lottery. However, in early 2023, FTT's value dropped below $1 due to negative news emerging about the founder, Sam Bankman-Fried.
During a hearing on April 12 in a Delaware court (USA), lawyers from Sullivan & Cromwell, representing FTX, disclosed that the company had recovered $7.3 billion in assets. This was a significant improvement from March when FTX's assets were around $4.8 billion as of November 2022, before filing for bankruptcy.
FTX's legal team argued that the difference between the current assets and pre-bankruptcy assets provides a basis for restarting operations. Although FTX CEO John Ray had mentioned the possibility of the exchange's restoration in January, his statement was deemed unrealistic since FTX had millions of creditors at the time.
In late March, FTX issued refund emails to users containing their account balances at the time of the exchange's bankruptcy and customer codes.
While news of FTX's possible return is generating positive discussion on social media, many remain skeptical, believing that the trust of the community has been lost. Investigations are ongoing, assets are being recovered, and former FTX CEO, Sam Bankman-Fried, is facing charges mostly related to fraud and financial conspiracies.
Prior to filing for bankruptcy in November 2022, FTX was the world's third-largest cryptocurrency exchange in terms of trading volume and was valued at $32 billion, representing a formidable competitor to Binance. The collapse of FTX had direct implications for related projects.
Bankman-Fried's trial is scheduled for October, and if convicted, he faces a maximum sentence of life imprisonment, which may change if he cooperates with the investigation or pleads guilty.
https://bitforum.net – Crypto forum discussions about all aspects of cryptocurrency #Bitforum #SocialFi #InnovationSocialNetwork