Citadel, Fidelity, and Charles Schwab unite to unleash their groundbreaking platform, EDX Markets. With the current market dominated by heavyweights, such as Binance commanding a massive 28% market share, followed by Huobi with 12% and Coinbase with 9%, the entry of these financial titans is set to shake the foundations of the crypto world!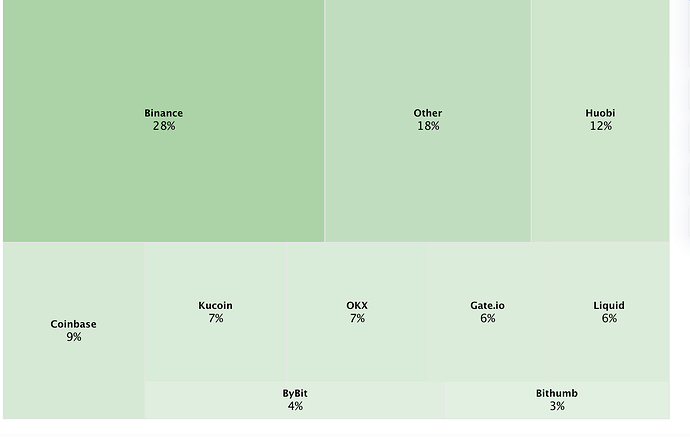 (Source: Statista)
Citadel, Fidelity, and Charles Schwab bring unparalleled expertise, resources, and a long-standing reputation in the traditional financial realm. Now, they're converging their powers to launch EDX Markets, a platform that promises to redefine the way we trade cryptocurrencies.
The arrival of these industry giants signifies a monumental shift in the perception and adoption of digital assets. As Binance flexes its muscles, holding the lion's share of the market, EDX Markets aims to disrupt the status quo and challenge the dominance of existing players. EDX Markets is not just another run-of-the-mill exchange. It's a platform backed by the expertise of Citadel, Fidelity, and Charles Schwab, providing a new level of trust, security, and innovation. Traders and investors can expect enhanced features, robust infrastructure, and a seamless user experience that will redefine their crypto journey.
The global crypto community is buzzing with anticipation as EDX Markets prepares to make its grand entrance. The platform's launch signals a significant turning point, bridging the gap between traditional finance and the crypto revolution. It paves the way for a future where institutional-grade investment services meet the dynamic world of digital assets.
As Binance, Huobi, and Coinbase face the arrival of EDX Markets, the competition will intensify. Traders will benefit from increased options, lower fees, and a wave of innovation as exchanges strive to retain their market share and attract new users. The battle for dominance will push the boundaries of what's possible, benefiting the entire crypto community.
With Citadel, Fidelity, and Charles Schwab spearheading EDX Markets, the world of crypto exchanges will witness a seismic shift. It's a game-changing moment that reflects the growing mainstream acceptance and adoption of cryptocurrencies. The entry of traditional financial giants into the crypto space marks a significant milestone, bringing a blend of institutional expertise and digital innovation.
https://bitforum.net – Crypto forum discussions about all aspects of cryptocurrency #Bitforum #SocialFi #InnovationSocialNetwork