Javier Milei wants Argentina to swap the peso for the US dollar. Here's what that could mean
LondonCNN —
A chainsaw-wielding, self-professed "anarcho-capitalist" is now one step closer to overhauling Argentina's beleagured economy — by throwing out the nation's peso currency and adopting the US dollar as legal tender.
Javier Milei, a far-right libertarian presidential candidate, has made "dollarizing" Argentina a signature proposal of his campaign, hailing it as a cure for the country's hyperinflation problem. It's a step other countries have taken, just none the size of Argentina.
Milei, a former financial analyst, came second in the first round of the election on Sunday behind Sergio Massa, Argentina's incumbent left-wing economy minister. The two candidates are set to compete in a run-off vote next month.
He may now try to gain support from centrists by moderating his stance on the economy. JP Morgan analysts noted that he did not use the word "dollarization" during a speech Sunday. But markets will be on tenterhooks for what they say is likely to be a tight race.
For years, Argentinians have preferred to pay for many goods and services in greenbacks, rather than with their own collapsing currency, as part of an informal "blue dollar" currency market.
The value of the peso has plummeted 858% against the US dollar over the past five years as the central bank printed more of the currency to help the country's spendthrift government avoid defaulting on its debts. That, in turn, fueled rampant price rises.
Annual inflation topped 138% in September, its highest level in 32 years, according to data from the National Institute of Statistics and Censuses.
But full and formal dollarization would push the economy into whole new territory. According to analysts, it would also be a gargantuan task.
What is 'dollarization'?
To dollarize its economy, Argentina would need to exchange all pesos held by its people and businesses for US dollars, and assign a dollar value to all of its assets and contracts.
Such a move would effectively disband Argentina's central bank, handing the reins of monetary policy — that is, the power to set interest rates and print more money — over to the US Federal Reserve. The Fed would continue to set the cost of borrowing based on the needs of the US economy, not Argentina's.
Milei has argued that surrendering autonomy to Washington is a necessary step to instil discipline into Argentinian policymakers. It would mean Argentina would no longer be able to print money.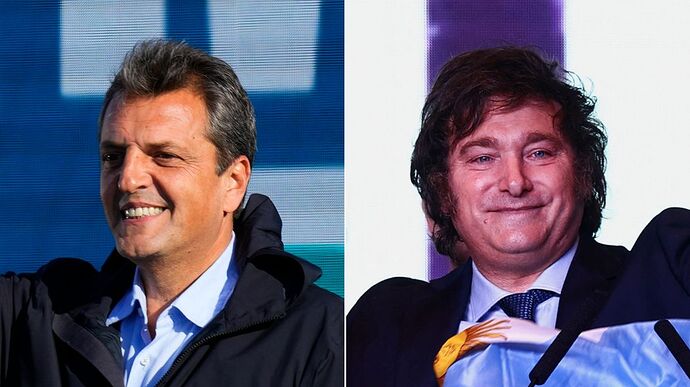 Argentina's current Economic Minister and left-wing presidential candidate Sergio Massa; right: far-right libertarian presidential candidate Javier Milei.
Left: Argentina's current Economic Minister and left-wing presidential candidate Sergio Massa; right: far-right libertarian presidential candidate Javier Milei.
Natacha Pisarenko/AP/Matias Baglietto/Reuters
"That's been the problem for Argentina to cover fiscal shortfalls: It gets the copy machine going in the central bank and starts printing money," Christopher Sabatini, senior research fellow for Latin America at Chatham House, told CNN, adding that dollarization would "impose fiscal discipline," helping to cool inflation.
Economists at Capital Economics wrote in an August note that dollarized countries El Salvador, Panama and Ecuador show "markedly lower inflation than elsewhere in the region."
Kimberley Sperrfechter, an emerging markets economist at Capital Economics, thinks a dollarized Argentina would have little impact on the United States as it is a "relatively minor player" in global trade.
"(Argentina's) a relatively closed economy," she told CNN. "It has capital controls so it's difficult to get money out of (the country)."
Not a 'silver bullet'
But dollarization is not a panacea for Argentina's crisis-stricken economy, analysts say.
"(The policy) is seen as this kind of silver bullet that will solve all of Argentina's problems, and I think that just isn't correct," Sperrfechter said. "Fiscal policy will still be at the whims of politicians," she added.
While a dollarized economy would likely be protected against rocketing inflation and sharp currency drops, Capital Economics noted, it would become more vulnerable to a process known as "internal devaluation."
Because Argentina would no longer control its exchange rate, it would be unable to absorb shocks to its economy by lowering the value of its currency. Instead, stabilizing the economy and remaining competitive in export markets would require cuts to wages and prices at home.
Even when it keeps a lid on inflation, dollarization does not guarantee against default. Ecuador — which is one fifth the size of Argentina's $622 billion economy — has defaulted on its debts twice since it adopted the greenback in 2000.
Practical headache
There's another significant snag in Milei's plan: Argentina doesn't have enough dollars to ditch the peso.
According to Capital Economics, Argentina has a $7.5 billion hole in its foreign currency reserves, meaning it owns fewer dollars than it owes to its creditors abroad.
"The central bank doesn't have enough dollars. They just aren't there. It's still got a $44 billion debt with the (International Monetary Fund) which it doesn't have enough hard currency to pay back," Sabatini said.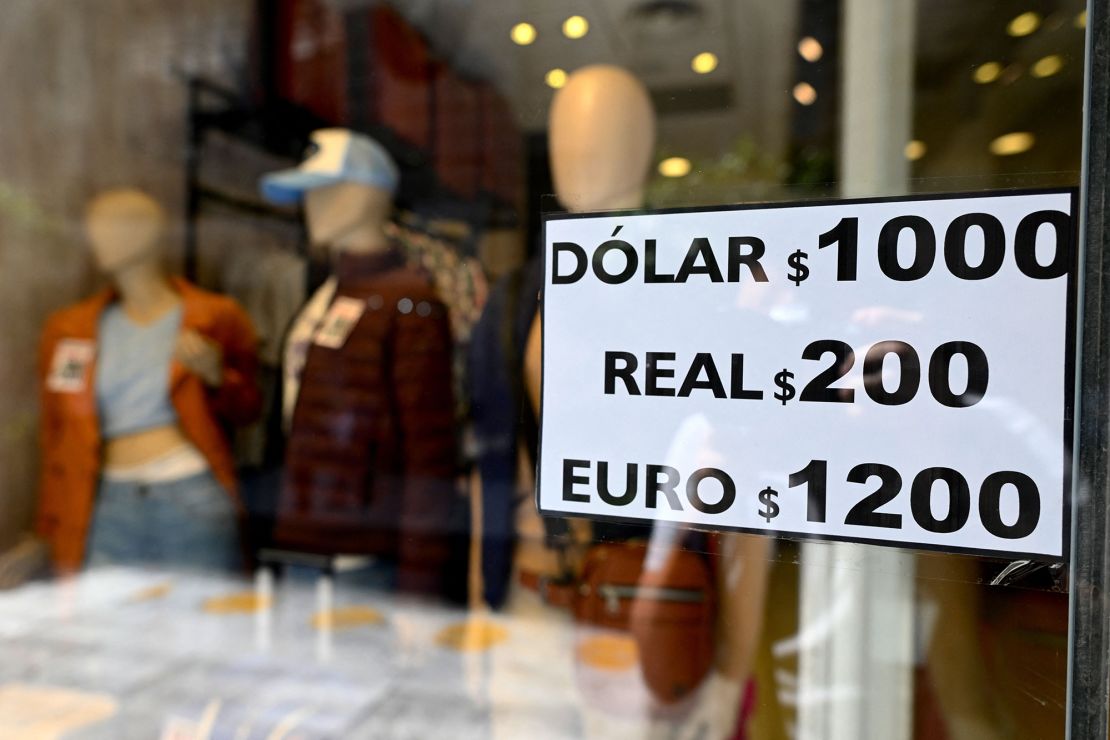 A sign with exchange currency values of the unofficial so-called "Blue Dollar" of the parallel market is displayed in the window of a store in Buenos Aires on October 10, 2023.
The government would likely find it difficult to raise the dollars through other means.
The IMF has effectively barred Argentina from accessing international markets while it pays back its debts, Sabatini explained. The government would also need to convince its citizens at home and abroad to return their pesos en masse, he said, and to do so calmly to avoid a "wave of speculation" further trashing the value of the local currency.
"People would need to take wheelbarrows of cash to convert to dollars," Sabatini said. "The sheer complexity of what (Milei's) tossing around as an idea… is difficult to conceive of on a practical level."
Sources: CNN, https://edition.cnn.com/2023/10/23/business/javier-milei-argentina-dollerization-explainer/index.html