According to a report on July 11th, Chainalysis suspects that the recent large-scale outflow of funds (~USD 125M) from Multichain may be the result of a "rug pull" fraud within the project.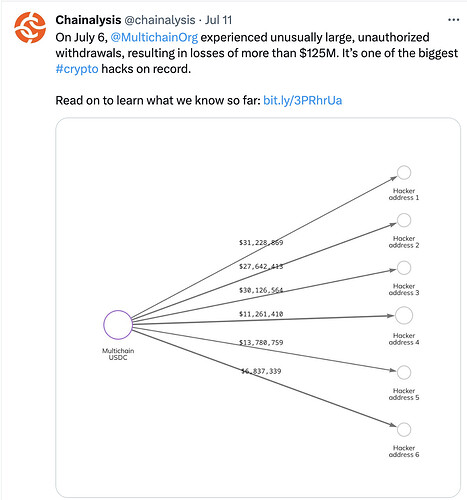 The attacker chose to keep USDC and USDT tokens, but Circle and Tether successfully blocked the funds from leaving, preventing losses of 65 million USDC and 2.5 million USDT.

The incident was attributed to the MPC system, a multi-signature wallet that requires multiple confirmations.

Chainalysis has ruled out a codebase flaw and suggests the attacker leaked MPC keys.
Before the hack, Multichain CEO Zhaojun Taken Into Custody by Chinese Police on May 21, 2023.
https://bitforum.net – Crypto forum discussions about all aspects of cryptocurrency bitforum #SocialFi #InnovationSocialNetwork