Get ready for the virtual sneaker revolution as Nike, the global sports giant, unveils their latest innovation: Our Force 1 (OF1). These futuristic kicks, inspired by the iconic Air Force 1 design, are not just ordinary shoes. They are part of a groundbreaking game that blurs the line between fashion and technology.
Nike is gearing up to release their first-ever collection of NFT sneakers, and they are doing it in style on their cutting-edge platform called Swoosh. Starting from April 18th, lucky users of Swoosh will be treated to exclusive "posters," granting them early access to the highly anticipated sale on May 8th. But that's not all – on May 10th, the entire Swoosh community will have the chance to dive into a digital shopping spree, snatching up these one-of-a-kind virtual treasures.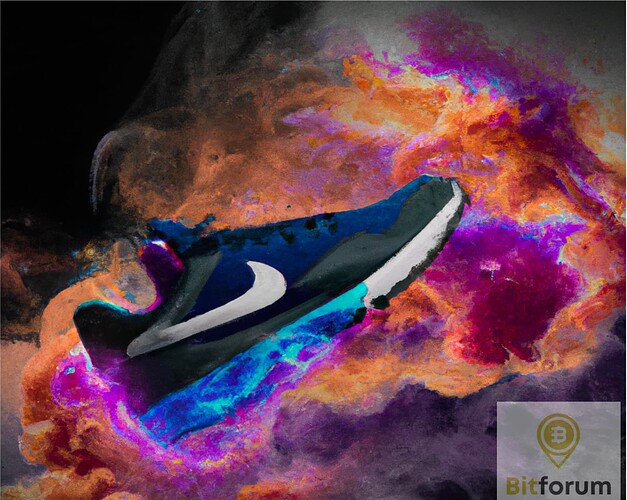 Immerse yourself in the world of digital fashion with two incredible options: the "Classic Remix" box and the "New Wave" box. Each box holds the potential for unique designs, including a collaboration crafted by four passionate Nike fans. Priced at a symbolic $19.82, paying homage to the birth year of the legendary Air Force 1, these virtual shoe boxes are a must-have for sneaker enthusiasts and collectors alike.
And the excitement doesn't stop there. Once you possess these coveted OF1 boxes, you can unveil their digital contents at a later date. Nike has gone above and beyond by accompanying each NFT with a mesmerizing 3D file. Let your imagination run wild and express yourself in unimaginable ways. But that's not all; Nike has even bigger plans. They intend to introduce exclusive physical products and unforgettable experiences for the lucky owners of these virtual gems.
Ron Faris, the mastermind behind Nike Virtual Studios, exclaims, "We're not just creating sneakers; we're breaking barriers and redefining storytelling in ways you've never seen before. This is the future of fashion, where the possibilities are limitless."
Nike's journey into the virtual realm began back in November 2018 when they launched the beta version of Swoosh. Little did we know then that it would pave the way for a revolution in fashion and redefine the relationship between consumers and their favorite brands. Swoosh isn't just a platform; it's an entire universe where creativity thrives and dreams come to life.
Join the Swoosh community and unleash your imagination. Get ready to step into a digital world where sneakers become art, fashion becomes virtual, and possibilities know no bounds. The future of fashion is here, and Nike is leading the way, one virtual step at a time.
https://bitforum.net – Crypto forum discussions about all aspects of cryptocurrency #Bitforum #SocialFi #InnovationSocialNetwork