The online payment and money transfer company PayPal Holdings (USA) has introduced a stablecoin called PYUSD, which is pegged to the value of the US dollar. This move marks the first time a major global financial technology company has used cryptocurrency for payment operations.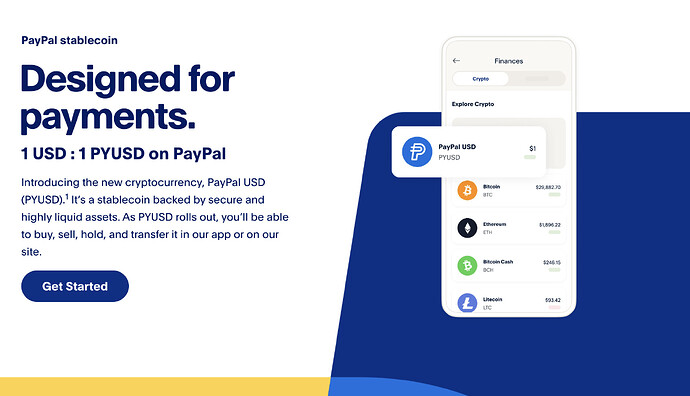 In a press release dated August 7th, PayPal has revealed that its stablecoin, named PYUSD (PayPal USD), is being issued in collaboration with Paxos Trust Co., a blockchain technology firm headquartered in New York City. PYUSD will derive its value from a reserve of US dollars, short-term US government bonds, and equivalent assets. This stable cryptocurrency is pegged to the US dollar and will initially be rolled out to PayPal customers based in the United States.
By introducing PYUSD, PayPal's CEO Dan Schulman aims to fortify the company's dominant position in the digital payment sector. This move capitalizes on cutting-edge technology, facilitating swift and cost-effective money transfers without the necessity of intermediaries for transaction processing.
Over the past year, PayPal's stock has experienced a decline of 33%, ranking it sixth in performance within the Nasdaq 100 index. This shift comes as the surge in online payments during the pandemic begins to taper off.
Schulman expressed, "Our long-term vision involves PYUSD becoming an integral component of the broader payment infrastructure."
Stablecoins, which are cryptocurrencies tethered to stable assets like the US dollar, have been in existence for almost a decade. However, their predominant use has been among investors seeking to relocate digital assets between various exchanges. Despite this, stablecoins have not yet gained widespread traction in everyday consumer payment transactions. According to CoinGecko, a platform tracking cryptocurrencies, the circulating supply of stablecoins stands at around $126 billion. Tether Holdings' USDT (Hong Kong) remains the leader in terms of market share and capitalization.
https://bitforum.net – Crypto forum discussions about all aspects of cryptocurrency bitforum #SocialFi #InnovationSocialNetwork