What Is Cronos [CRO]?
Cronos (CRO) stands as the native cryptocurrency token of the Cronos Chain, a decentralized, open-source blockchain developed by Crypto.com—an esteemed company offering payment, trading, and financial services.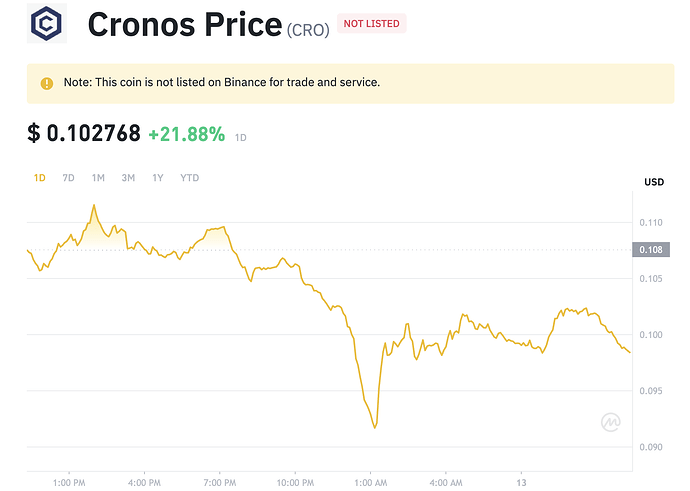 As part of Crypto.com's comprehensive lineup of solutions aimed at fostering the global acceptance of cryptocurrencies, Cronos Chain serves as a pivotal component, powering the Crypto.com Pay mobile payments app. The platform, which went live in November-December 2018, aligns with Crypto.com's vision to enhance personal control over finances, safeguard user data, and protect identities.
The Founders of Cronos:
Cronos was introduced by Crypto.com, founded in June 2016 as "Monaco Technologies GmbH" by Kris Marszalek, Rafael Melo, Gary Or, and Bobby Bao. Kris Marszalek, an alumnus of the Polish Adam Mickiewicz University, boasts prior experience with companies like Starline Polska, YIYI, and BEECRAZY.
Rafael Melo, with a degree in engineering from PUC-Rio, has over 15 years in finance, contributing significantly to major Asian companies and securing substantial funding for the Ensogo social commerce website.
Gary Or, a software engineer with nine years of experience, co-founded Crypto.com after roles at Ensogo and founding Foris. His academic background includes a bachelor's degree in engineering, computer science from the University of Hong Kong.
Before Crypto.com, Bobby Bao worked in the M&A department of the China Renaissance investment bank, having studied at the University of Melbourne, NYU Stern School of Business, and the College of William & Mary.
What Makes Cronos Unique?
The CRO blockchain primarily caters to users of Crypto.com's payment, trading, and financial services. CRO owners can stake their coins on the Crypto.com Chain, acting as validators to earn fees for processing transactions. CRO coins also settle transaction fees on the Cronos Chain.
In the Crypto.com Pay app, users can earn cashback up to 20% by paying in CRO and up to 10% through gift card purchases and peer-to-peer transfers. Trading on the Crypto.com App offers token rewards for staking CRO.
Users can earn annual interest of up to 10-12% on Crypto.com by staking them on the Crypto.com Exchange app or Crypto.com's metal Visa Card.
CRO plays a crucial role in Crypto.com's mission to increase global cryptocurrency adoption, with ongoing efforts to discover and develop new use cases, allowing users to harness cryptocurrency for enhanced control over finances, data, and identities.
CRO Tokenomics
The total supply of CRO is capped at 30 billion tokens following the announcement that 70 billion tokens would be burned on February 22, 2021. Out of this total, 59.6 billion tokens were burned at the mainnet launch, while the remaining 10.4 billion are secured in a smart contract and undergo monthly burns upon unlocking.
Post-burn, among the 5.9 billion CRO tokens remaining in the total supply yet to be circulated, five billion will be dedicated to mainnet block rewards, and 0.9 billion will be assigned for ecosystem development.